Climate comes first. With sustainability and carbon footprint reduction becoming a global priority now, most Western banks have decided to tighten their lending rules, especially to the coal miners who have been mulling over expanding operations. The demand for coal is on the rise, post-cutting down on Russian gas consumption by many European power companies. 
The energy sector is facing a mixed situation. The demand for coal, the 'pollution-causing fossil fuel,' has been surging for the last few months after years of decline. The coal prices are hitting new highs, and the rise has been pretty swift. The main factor driving this surge is the decision by major European power generation companies to replace Russian gas with coal. In a situation like this, any mining company would want to expand their operations. However, most projects are being left unsanctioned as Western banks have put their feet down, saying they stand by the climate pledges and hence, cannot lend to the sector. 
While coal mining companies already doing business with a bank are leveraging the favourable backdrop, companies planning to start new mines are finding it extremely difficult to arrange for funds. They are even being compelled to scout for alternative funding via private equity firms, public markets, trading houses, investment funds, and pre-sale finance. The shareholders of the Western banks are pressurising the latter to support the climate change initiatives by not lending to these mining companies. 
Lloyds Banking Group has already withdrawn its banking services to North America's bens Creek Group soon after they listed themselves on London's AIM (Alternative Investment Market is a sub-market of the LSE). They cited policy changes regarding coal behind this decision. In February, Lloyds said that it would no longer finance mining companies generating more than 5% of their revenues from thermal coal, starting at the end of this year. It will also stop providing general banking services to new customers dealing in coking coal.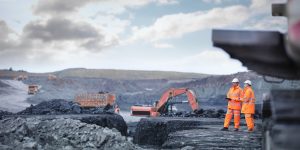 "Nobody had these issues five years ago," said Bens Creek CEO Adam Wilson. 
His sentiment was echoed by Morne du Plessis, chief executive at Minergy Limited, a Botswana-based listed company planning expansion and looking for funds. "We are exploring all the options at this stage, but commercial banking is not necessarily available," said Plessis. 
The rules in Western banks are stricter than ever, and they are not even ready to issue overdrafts or loans for capital investments like purchasing vehicles. This is leaving startups like Minergy with very few options, and they are turning to routes like reducing their debts in the market. 
Coal Prices Ease but are Still Higher than in the Past Years
Coal prices are hitting record highs. They reached an all-time high of $457.80 in September 2022. The demand for coal is so strong that some industry insiders say the miners are selling steel-grade coal to companies in the power sector. The coking coal, which is of a superior variety, actually traded lower than the lower-grade thermal coal for the first time ever in June this year. 
"It's a crazy situation," noted Gerhard Ziems, chief financial officer at Coronado Global Resources Inc, an Australian coal mining company. Ziem likened the situation to silver trading at a higher price than gold.
The benchmark price of thermal coal, which was hovering around $50 a tonne in Australian Newcastle in 2020 beginning, climbed to above $150 a tonne at the start of 2022. Soon, it crossed the record $ 400-a-tonne mark in September as countries worldwide desperately started looking for fuel alternatives for Russian gas after the geo-political tension erupted between Russia and Ukraine. 
China Stands Unaffected
No matter what the scenario is in the ex-China market, coal investments in China this year are expected to remain high. In fact, global coal investment value is projected to rise by about 10% to $116 billion, thanks to China. Nevertheless, increased Chinese production is unlikely to affect the global coal market, analysts opine. The amount of coal being traded will remain high, and so the prices.