The Vietnamese financial market has grown exponentially over the last decade. It has become one of the most attractive markets for both domestic and international investment. The Vietnamese security market, therefore, also follows suit in its growing quality and quantity of business. However, the changes in administration, operation, and loopholes in risk management limit the amount of healthy and sustainable security firms.
Post its revival from the shackles of bankruptcy, Tien Phong Securities Corporation (TPS) became a new organization joining the Vietnamese financial market in 2019. The aftermath of restructuring and quality operation of 2 years, boosted a momentous growth to the corporation, making its holding in the Vietnam security industry stronger than ever.
In July 2021, The Global Economics marked TPS as the Fastest Growing Investment Bank – Vietnam 2021. The Global Economics conversed with Mr. Tran Son Hai, Vice President in the Board of Directors and General Director of TPS, on the process of restructuring TPS and brainstormed ideas supporting its development and contribution to the Vietnamese market.
Role of Tien Phong Securities in Vietnam's Economical progression
Vietnam is a country with strong economic growth in the region. The financial market is offered an abundance of opportunities and plenty of space to grow owing to our geographical location, politics, society, young population, Vietnam's investments, mobilization of social forces to jointly invest in targeted economic fields, and core businesses.
For example, Vietnam is vouching for infrastructures, including transportation and energy production, in the centers of its economy. As the need for capital is great, the government prioritizes implementing socialization and mobilization of funding from businesses; and they prefer to choose infrastructure builders with great potential and reputation to carry out those projects. TPS has been cooperating with many businesses in the fields of infrastructure and renewable energy to organize many funding affairs, financial consultancies, project management, mergers and acquisitions (M&A) to keep up with the trend of growth in infrastructure while contributing to the economic growth of the provinces as well as the region as a whole.
Contrasted by their limited land supply, the big cities have a high density in population which increases the demand for housing every day. TPS is considered a trusted partner for Vietnam's famous real estate developers in M&A projects, funding for construction, creating commercial and social housing pools, and satisfying the housing demands in social and middle-to-high class segments. We do not simply stop at managing capital or giving financial consultancy for real estate businesses. TPS also joins in the value chains by cooperating with businesses to build up modern and civilized communities, housing areas with adequate utilities such as schools, supermarkets, hospitals, entertainment areas, and parks which consequently creates an added value for the areas.
Adjacently, we have succeeded in bridging the flow of idle capital from the communities/investors to the businesses in need. Our work practice includes flexibility in terms, attractive interests, high liquidity, as well as a commitment to investment conservation. Based on our detailed evaluation of each customer segment, from retirees, housewives, office workers to professional investors, we have created a plethora of financial products suitable for the majority of our customers. Today, we are humbled by the cooperation of many major customers, whose mindset of professionalized investing and clear investment strategies helps both parties to gain remarkable benefits.
TPS's unique contribution to the soaring Banking sector in Vietnam
The Investment Banking (IB) sector in Vietnam has only reached a sense of development since the last 6 years when some large-scale commercial banks began to make real IB business by establishing specialized groups or subsidiaries to provide IB service. When the banks begin to join the IB sector, they bring forth fierce competition between organizations. Yet, in the first 3 years, the market only fell short at providing consultations for issuing bonds. The absorption of bonds was only through separated distribution channels of the banks/financial organizations and it also did not have many efficient and accessible financial products.
TPS has joined the market in 2019. At that time, we were a unit facing restructuring and recuperation from losses. We had to implement several solutions to maintain the existing operations while brainstorming many applied business strategies for the short-mid and long terms. Besides, TPS joined the market when it had shown development stages with high competition from other units, some of them which nearly dominated the whole market with more than 80% market share. Keeping in mind these difficulties, we have introduced financial investment products with advantages that are in favor to the customers to gather their interest. Those products were guaranteed in issuing organizations' ability to pay, while also warranting the liquidity in the scope of applicable laws. We got our first customers in May 2019. Thanks to our strict and thoroughly implemented planning strategies that go hand-in-hand with the investors and issuing organizations, we have:
Gained nearly 20,000 familiar and frequent customers, including in financial investments, securities trading, and other services.
Distributed more than 1.5 billion USD of (primary) financial products into the market.
Boosted our monthly sales by more than 1,500 billion VND (~ approximately 65 million USD).
Reached top 6 in the first quarter of 2021 and quickly claimed the 2nd position in the market share for bonds in the Vietnamese market in the second quarter of 2021 (according to the statistics of Ho Chi Minh City Stock Exchange).
Currently in our pipeline, especially the IB segment, there are many trade affairs planned for implementation from 2021 to 2024, and we are putting efforts into rolling out many new special products keeping the customer interest in mind.
Furthermore, the step-up on our technology development is a major factor that makes TPS different from our competitors on the market. This whole time, TPS has focused our investment on research and implementation of new superior products, as well as diversified, improved, and added information system functions and utilities. We have built online transaction software to help investors trade easily wherever and whenever comfortably and efficiently. Specifically:
From Jan 2021, we have begun our cooperation with Finbase in improving the digitalization of our information system. Finbase is a technology company providing state-of-the-art services in financial and investment fields.
In July 2021, we officially succeeded in implementing the platform for online bonds trading (TPS – Finbase); thanks to that, investors/customers can directly research many financial investment products suitable to their needs, easily manage their portfolios, and make clear plans for future cash flows.
In August 2021, we introduced TPS Mobile – An online transaction application for mobile devices, aiming for the best user experience and supporting efficient investment transactions, with many elevated utilities and functions.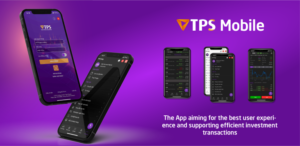 As a member of the TP Bank ecosystem – "The best digital bank in Vietnam" (The Asian Banker 2021), TPS is granted the best cooperative condition to offer the market highly diverse and valuable technology services, such as online deposits from TP Bank Account into TPS Account, fast deposit from all banks to TPS Securities Account (SA) through a system connecting fully automated cores with accounting time of 5 seconds, and online transfer money from SA to TP Bank Account. Customers can directly make secure transactions using the capital in their bank accounts and enjoy many other products which are continuously developed and updated.
TPS' best acquisitions and associated companies so far.,
All our partners are good and trusted ones. It's really hard for us to consider if one organization would be better among others. Suffice to say that, when we joined this market facing a multitude of difficulties, these organizations had put their trust in us, went hand-in-hand with us, and supported us; and we did not fail them. To achieve that, we would also carry out detailed evaluations and analyses on these partners' history of operation, their credit, their current business and financial situation as well as their potentials so that we both have our cooperation fitting into each time frame.
Our partners are centered on the important fields to the Vietnamese economy: real estate, high-tech agriculture (a very important field given the current Covid-19 pandemic situation), renewable-sustainable energy, transportation infrastructure construction, clean water production, distribution, housewares, and appliances.
For example, in infrastructure, we go together with Ho Chi Minh City Infrastructure Investment JSC (CII) (a top-tier infrastructure organization in Vietnam; they are implementing several big constructions of national importance). We have arranged approximately 65 million USD for CII to timely supply the capital, ensured the progress of their vital national transportation infrastructure projects (Trung Luong – My Thuan expressway, Ha Noi highway). In renewable energy, we cooperate with BCG Energy JSC to arrange capital for Thanh Nguyen Energy Development and Investment Company Ltd, investor of Krong Pa 2 solar power project which has an estimated capacity of 49 MWp in Gia Lai province, Vietnam. The total arranged amount is approximately 17 million USD together with its corrigenda for building, installing the solar panels, constructing of the power line and the administrative factory.
For real estate, a novel economic sector with strong growth in Vietnam, we collaborate with many big companies such as BCG Land JSC, Hung Thinh Land JSC, and Sunshine Group JSC to bring in the needed cash flow for the M&A deals. One significant point is a 180 million USD deal to M&A with a very large-scale project locates on high-value land with room to grow in the future. It's promised to be an international standard urban area for residents, including residents or foreigners who would like to choose Vietnam as their place for living and working.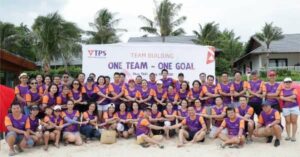 Our consumer base covers nearly 20,000 customers, including organizations/businesses, domestic and international individual investors. And our number of customers keeps growing every day.
About the spillover effect of TPS brand name to geographical regions: if Ho Chi Minh City and Hanoi are the 2 main traditional markets, then independently we have spread our TPS brand name to the whole of Vietnam. Our products attract the interest of investors from many areas/provinces, including rural areas and far away regions. Currently, in those areas, the investment value has just reached a low proportion and the customer system has not matured yet. But with a direct distribution channel from our specialists to our customers, we have begun to gather favors in turning the opinions and investment purposes of the people towards financial products instead of only traditional saving accounts. And of course, with better profits, people will have a higher income to improve their lives both materially and spiritually. This will indirectly create a driving force for provincial economic development. Achieving that was only owing to our strategies to rationally cover the distribution channel with sales quota and products fitting the risk appetite of investors.
TPS's ideologies and strategies to maintain a secure position as one of the fastest-growing businesses in Vietnam
To be awarded the title of the Fastest Growing Investment Bank – Vietnam 2021, we have been of a singular mind and heart to execute our strategies, including the business block and the operational block of the back office in the last 2 years. We have also fabricated the long-term and short-term goals for the development of the company in the time to come, as well as quickly applied information technology to improve investing experience for our customers and our administration.
In the process, we identify those groups of strategic targets:
Customers are the center: we opt to choose our advertisements and create financial products based on the needs of the mass market. Our customers are groups of individual investors, who are the bulk of the market with idle capital and a need to experience or to change their investment strategy toward financial products with superior efficiency while still warranting the liquidity together with risk-minimized policies.
Matching products: for the customer groups mentioned above, we create financial products with fitting terms and the return of investment is much more competitive compared to other companies in the market. Besides, we also establish a "trading platform" for our financial products, ensuring liquidity for customers when in need. This is the reason that helps investors to feel secure when investing in our financial products.
Support technology: TPS has advocated for the construction of an online transaction platform since the beginning. By cooperating with leading Vietnamese Fintech specialists, TPS together with our distributing units has successfully built up and implemented the online bonds trading platform. Through that, we and our sales units enjoy tools for business administration. The back office has a base for operation and transaction management; and our customers/investors can experience a smart, fast, and efficient investment method with clear information being displayed with complete transparency with the forecast of future cash flow at any time while still being highly secured and safe.
Human resource:
The leaderboard of TPS always confirms that people are our most important assets. As a young brand name in the market, TPS is always keen on attracting talents while continuously nurturing our current employees. With an all-around compensation policy, the company pays our staff by their true competency and contribution. This increases the competitiveness in total income compared to the general market, and also goes with attractive welfare and activities to unite members as well as supports an individual's spiritual life. TPS is proud to be able to attract experienced personnel, who are full of enthusiasm and commitment to the united benefits of the company, the shareholders, and our customers.
We will continuously carry out the above strategic targets regarding groups of investing customers.
As for businesses needing capital, we will step-by-step carry out tasks to become their full-scale cooperating partner, bringing benefits to both sides. Especially, we will continue to concentrate our effort in implementing capital arrangement deals for high-tech agriculture, renewable energy – sustainable development, environment (green bonds), construction of transportation infrastructure in centers of economy, and projects with commercial housing together with social utilities to make them become modern, civilized urban areas, as well as other vital production lines such as clean water and food. All the while, we will also uphold the social responsibility of business through specific and practical actions to help improve the quality of life for Vietnamese people, as well as highlighting the TPS brand name recognition.
I believe that, with the expanse in the scale of the company, together with our market sensibility, and the cooperation from strategic and potential partners, TPS will maintain its growing speed and continue to be a major IB unit in the Vietnamese market.
Vice President's message to their investors and partners
For the time to come, TPS will execute several new business strategies to offer more financial solutions, investment products with flexibility and finesse to customers, including:
Stronger investment in technology: TPS will coordinate with leading Fintech specialists to optimize all transaction systems to bring forth a superior experience for the need of investing and trading securities/financial instruments of customers.
Investment in humans: with the motto "Human resource is core asset", TPS will attract talents to build our staff up to excellence, meeting our need for development in the new period.
Risk management: strictly implement and adhere thoroughly to risk management requirements, apply modern risk management models of the world to ensure and safeguard TPS operation as well as for products TPS offers to the market.
Roll out superior and pioneer products: the current products system and customers are the solid ground for TPS to pioneer a series of new products, including financial investment, stocks and eventually offer wealth management model to different customer segments to go hand-in-hand with customers through the investment process and elevate TPS' position in the market.
Offer the best benefits to investors and partners: with the series of solutions TPS has and will carry out, we will continue to be the companion of our partners and investors to gain us all the highest mutual benefits.