History of Nagad – Bangladesh's digital burgeoning digital finance facet
Nagad, the Mobile Financial Service (MFS) arm of the Bangladesh Post Office, was formally inaugurated by Prime Minister Sheikh Hasina on March 26, 2019, to lead the country's booming Digital Financial Service (DFS) revolution.
The core philosophy of the service is to attain a plethora of potential possibilities. According to the World Bank's Global Findex 2017, only 50% of Bangladeshis had mobile banking and/or financial institution accounts, of which only 21.2% had mobile money accounts. That leaves a large population of unbanked people who require reliable service to assist their financial needs. The purpose of the firm is to enhance the lives of people by empowering them with financial flexibility through the hosting of essential services such as cash in/out, P2P money transfer, utility billing, a wide variety of payments, and mobile top-ups.
The firm sets itself apart by ensuring meticulous customer service. Through its facilities, the company contributes to the financial inclusivity & socio-economic development of the country.
After only two and half years of its journey, Nagad has acquired about 54 million registered customers which also allows the citizens to upgrade their life to a digital path, and that ultimately empowers them.
Nagad's contribution to the Bangladeshi🇧🇩 economy
From the very beginning, Nagad has kept cost efficacy in mind. For that, Nagad has opted for the best technology available, which gives a very positive result. The firm has introduced several innovations that ease customer onboarding to the financial platform. These innovations play a superb role to get a solid boost in customer acquisition and transaction volume.
Nagad introduced the first electronic-Know Your Customer (e-KYC) process. When Nagad developed the process, they faced massive criticism from the existing players. But within a few months, the process got popular. The players who had earlier criticized the process, embraced it to digitalize their process which helps to reduce the cost of doing business in the industry. A majority of banks are now using the process to open accounts and facilitate efficiency, a task that earlier took about a week and involved a process of filling up a form that ran several pages.
As most of the users do not have a smartphone and cannot access the e-KYC facilities, Nagad's team developed a new facility in partnership with many mobile phone carriers so that basic phone users can also avail efficient facilities. Under this innovation, any Bangladeshi with a mobile phone can open a Nagad account in just a few seconds by dialing *167# from their mobile phones and set up a personal identification number called digital KYC. This is the first innovation of its kind for any kind of financial service, which also received a good number of international recognitions.
Nagad has acquired 5.40 crore accounts; and, on average, about $85 million (BDT 7.50 billion) is transacted through the platform every day. The service brought more people into the financial service.
Financial inclusion through formal banking channels in Bangladesh stands at about 20%, whereas the MFS industry has pushed it towards 50%. The firm plays a significant role in this effect.
Nagad's unique status in the digital financial services sector in Bangladesh🇧🇩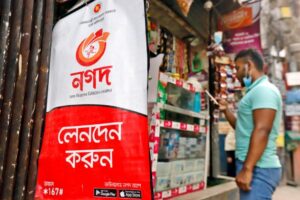 Any Bangladeshi with a mobile phone can open a Nagad account in just a few seconds by dialing *167# from their mobile phones and set up a personal identification number called digital KYC. This is a unique innovation by Nagad, which is leading all other MFS operators to a more innovative path.
Nagad made it easier for people to make money transactions and payments for purchases and utility bills in the early days of the Covid-19 pandemic in Bangladesh. Through Nagad, people can transfer money electronically, make easy and safe payments, and pay tuition fees and bills free of cost. It is contributing to the attainment of socio-economic development in the country. Some philanthropic organizations also use this platform to collect donations to run their operations.
The firm has also helped the government to prepare its financial assistance to the citizens with a digital process, and last year the carrier disbursed more than $1.150 billion (BDT 100 billion) which connects 25 million remote people of the country.
For common users, the firm is also offering a cost-efficient service in the market. In some cases, it is free of cost. This serves as a very good reason to obtain its service for any kind of financial transaction.
Nagad's "Send Money to Any Phone" service is also is massively useful to its users. It is uniquely created for users who have an existing Nagad account. This innovation of Nagad has been well recognized by both local and international agencies and has been copied by other players in the market as well.
To ensure seamless services, Nagad appointed 240,000 agents, partnered with more than 20,000 merchants including chain shops, and teamed up with about 1,500 e-commerce ventures and delivery companies.
The firm has been the only digital payment platform that ensured cashless payment options for Covid-19 tests.
All of these have been possible because of the simple digitalized account opening process. All users of Nagad are authentically verified with a valid database.
Key ideologies and strategies to maintain the eminence of digitalization in Bangladesh
Innovation is the key to obtain and maintain the fastest growth in any business and that also happens here in Bangladesh for Nagad. Innovations also ensure accessibility and ease of usability. On top of everything, cost/charges in Bangladesh also play a huge role. With the firm's innovative strategies, this carrier reduces its cost of doing business.

Message to investors and partners
The firm has already occupied a 35% market share in the Mobile Financial Service industry and is targeting to acquire 50% of the market share by the end of this year. All these achievements will come with the satisfaction of the customers, which is the main goal of the venture.
The Asia Pacific Postal Union (APPU) has seen the dilapidated situation of postal services in many countries because of digitalization. They were surprised to learn about the partnership between the Bangladesh Post Office and Nagad.
In the latest development, nine member countries of the APPU showed interest to replicate the business model of Nagad for the revival of their dying post offices.
The firm has approached the top policymakers of Bangladesh to transform itself into the country's first digital bank and has received a positive response from the banking regulator. Currently, the central bank forms the digital banking guideline and the firm is seeking to receive the first license of this kind within the next few months. And if we get this license, I can assure you that our service level will accelerate, customers' convenience will be ensured, and true financial inclusion will happen in the country.