United Facilities Management (UFM) is an important provider of cohesive facilities management services with over 10 years of experience in offering comprehensive services in the property and facilities management sector. The firm's headquarters is situated in Kuwait, housing operations encompassing the GCC and the Middle East region.
UFM strives to deliver comprehensive integrated services to facilitate an efficient, sustainable, and safe environment that inspires productivity.
UFM's principal intention is to progress long-term working partnerships with clients and benefit them to accomplish success by utilizing the latest technological methods and verified procedures to render facilities whilst ensuring maximum financial returns.
UFM bids an extensive range of facilities management services delivered via a fully integrated platform that is flexible and comprehensive.
Recent UFM Projects – Kuwait
Jaber Al-Ahmad International Stadium – is a Kuwaiti multi-purpose sports stadium. The capacity of the stadium is approximately 60,000 spectators, and it is considered the largest sports stadium in Kuwait.
Burgan Bank – established in 1977, the Burgan Bank is Kuwait's second-largest conventional bank by assets. It operates a network of 29 branches and over 100 ATMs. The United Facilities Management (UFM) provides integrated facilities management services, by utilizing the CAFM system, to all Burgan Bank branches in Kuwait. In addition to cleaning, waste collection, and security, it provides 24 hours of emergency services.
Agility – is one of the world's top freight promoting and contract logistics providers, an investor in technology to enhance supply chain efficiency, and a pioneer in emerging markets. UFM provides soft services such as security services, cleaning, and waste collection to the facility that is designed to produce a secure, clean, safe, efficient, and welcoming environment within the facility.
PAMA – The Public Authority for Minors Affairs (PAMA) has humanitarian goals. It was established in 1939 to provide the custody of the minors, the interdicted, the incompetent, and the missing people, and to keep their money and properties safe. It is an independent body that is supervised by the Minister of Justice. The United Facilities Management Company (UFM) provides property management services for real estate properties covered by the Public Authority for Minors Affairs.
GUST – is a modern university in Kuwait equal in quality to other prestigious universities abroad and serves the ever-increasing educational demands of the local society and the Gulf region. UFM is providing non-technical services such as security services (24 hours), cleaning and hygiene, as well as waste collection.
Al Salam Mall – The Al Salam Commercial Mall is located in the Hawalli Governorate, Salmiya District, Salem Al Mubarak Street. It is notable by the fact that it is located on four facades (corners) from all the surrounding sides and is not attached to any other buildings, which makes it distinct in the location. UFM provides real estate management services in the mall, civil works supervision, operation and maintenance of air conditioning, refrigeration, heating, ventilation, electricity, fire alarm systems, camera systems, security systems for elevators, plumbing, fire systems, and automatic control systems.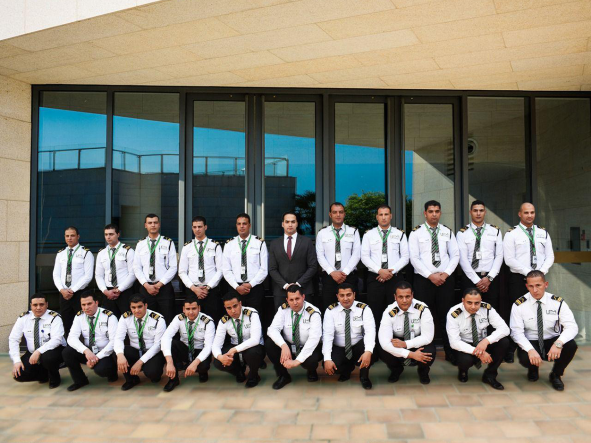 The Gate Mall – is a shopping mall with six-floor levels of unmatched shopping, dining, entertainment, and festive experiences. UFM is providing an efficient and welcoming environment within the facility through soft services such as security services (security guards/offices) and cleaning services that include waste collection and disposal.
Al Shaya'a Tower – is one of the world's leading brand franchise operators, offering an unparalleled choice of eminent international brands to customers. UFM is providing cleaning, concierges, and buffet services to the whole complex to ensure the smooth operation of day-to-day work.
The Seashell Julaiaa Hotel – is a 5-star hotel that enchants Mediterranean style villas and chalets with an atmosphere that embodies the spirit & life of luxury, serenity, and enjoyment. UFM is providing an efficient and welcoming environment within the facility through soft services such as security services (security guards/officers) to ensure high security to the facility.
Al Markaz – the Kuwait Financial Centre Company "Al Markaz" was established in 1974 to become one of the most prestigious financial institutions of the MENA region in the areas of asset management and financial services. UFM won the contract to manage the portfolio of the financial centre which is estimated at 890 real estate units. UFM provides all real estate management services for these portfolios, which include real estate rental, marketing, rents collection, supervising contractors, and following up on the cases related to it.
KFH Capital – was established in 1999 and is comprehensively owned by the Kuwait Finance House (KFH) to provide consultancy, financial, and asset management services following the provisions of the Sharia Islamic. UFM won the contract to manage the portfolio affiliated with KFH Capital, which is estimated at 1200 real estate units. UFM provides all real estate management services for these portfolios, which encompass property rental, marketing, rent collection, and supervision of maintenance work.
Gulf Investment Corporation (GIC) – its head office is located in the State of Kuwait, where over 240 employees manage the financial matters of the international investments. UFM is supporting GIC employees by handling facilities management related activities which are not part of the GIC's core business.
The Promenade Mall – was created with life in mind. It is the destination for all shopping & entertainment needs. UFM provides networking, cleaning, hospitality & administrative services, as well as manpower required to cover the required services.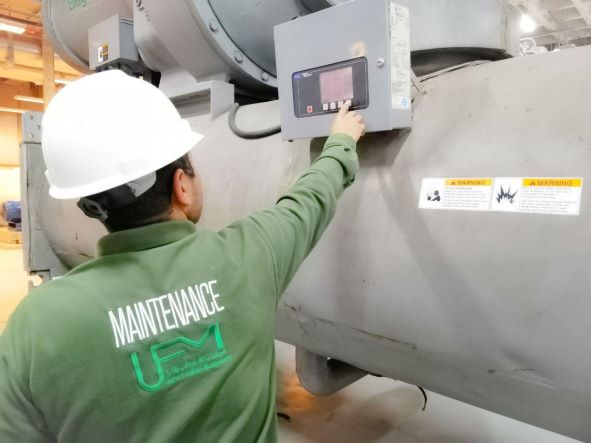 Marina world – is located in the bosom of Salmiyah, from the science centre to the yacht club in Kuwait's top retail commercial area. It is a vital attraction to an enormous number of daily visitors. UFM is providing all facility management services, encompassing hard and soft services, and business support services, to the mall and the marina area.
American United School – the campus features 4 playground areas and performs outdoor learning activities. It encompasses two basements that house the school cafeteria, multipurpose rooms, art and music studios, a gym coupled with a jogging track, and two swimming pools. UFM is providing cleaning, waste management, security (24 hours), pest control, and event management & support services.
UFM projects – GCC & North Africa
Salalah Gardens Mall in Salalah City, Oman – was built in coordination with the Omani Ministry of Tourism. It has shopping, dining, and entertainment options. The mall features a Souq area and hotel apartments. UFM provides Integrated facility management services such as MEP services, conveying systems, security, cleaning, pest control, and waste management services.
Aswar Residences, a residential community located in New Cairo, Egypt – the project comprises 75 three-story villas and landscaped gardens coupled with a clubhouse that houses a gym and an outdoor swimming pool. UFM provides – design & CAFM implantation consultancy, MEP services, landscaping, swimming pool & water features maintenance, and cleaning & waste management.
UFM's Noteworthy Partnerships
UFM is handling over 200 facilities in the State of Kuwait and the MENA including governmental and non-governmental entities. The firm is always seeking the biggest standards to deliver to its clients with top-notch services. Hence, it has signed several partnerships deals with an array of entities to assure the best quality of facility management services. Some notable partnerships are the Kuwait Foundation for the Advancement of Sciences and the British Council.