Beema is a ground-breaking insurance start-up that aims at making Insurance Lovable.
Based in Dubai and focused on high-growth countries, Beema is the region's first in offering all-online and usage-based insurance services, using digital technology to assess the risk in a more granular way and to reward users.
Its unique Pay-per-kilometer car insurance proposition determines premiums based on users' yearly mileage and driving behavior.
The team is continuously extending the product portfolio and bringing innovation into other coherent insurance verticals. Since launching in late 2019, Beema has sold around 35,000 policies and captured 1.5% of the market share; the fastest among competitors.
Beema innovates on three dimensions –
Incentives
Beema trusts its users, helping them to be more transparent with the right incentives and enablement through technology.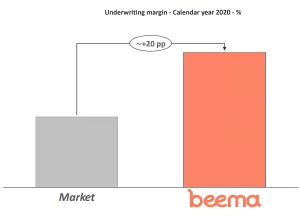 Price
Beema reshapes insurance products ground-up, using simple data to price and target better. Data is at the base of everything that Beema builds. Beema perfected a collaboration model with leading retailers, to have more efficient sales.
Experience
Beema's home-grown digital product aims at offering a seamless interaction and a radically better engagement. Beema makes insurance simple. Both for users and risk investors. Beema started in 2019 in the UAE, and has already achieved remarkable results in this short time.
Key Highlights
Launch of Pay-per-kilometer car insurance – September 2019
Since its launch of the region's first usage-based car insurance in 2019, Beema Pay-per-kilometer, the company has awarded users with over AED 600,000 in cashback.
Introduction of Property, Content, and Travel insurance
The launch of Beema's home and travel insurance verticals is just the beginning of Beema's transformation program. Beema aims to continue to provide customers with customized and curated insurance solutions across various segments, backed by strong tech support.
Beema home insurance covers personal belongings worldwide and not only at home, with other features for family and visitors in case of accidents at the insured home.
Beema is the region's first online digital car insurance offering designed for the new reality; a digital-led, fair, robust and flexible insurance platform. Beema uses digital technology as a vehicle to build deeper associations with internal and external customers while offering ease and convenience to offer optimum value. The new home and travel insurance is an extension of the company's digital-only strategy providing an end-to-end digital insurance solution.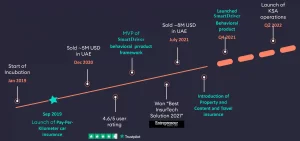 Launched SmartDriver Behavioral product – 2022
Beema Insurance, welcomed 2022 with the launch of yet another unique insurance product, "Beema SmartDriver", which rewards users for safer and more responsible driving. The product is the first of its kind in the market and can be purchased and activated online through Beema's mobile app.
Tailored specifically to drivers in the UAE, Beema SmartDriver offers comprehensive insurance with the added benefit of rewards, such as cashback, based on users' driving behavior. By doing so, Beema continues to be a pioneer in the Insurtech space by using digital technology to incentivize safer habits on the road, thereby minimizing the number of traffic accidents in the country.
Beema SmartDriver can be activated using Beema's mobile app and by utilizing the latest technology to assess driving behavior through measured data points like speeding, sudden braking, and phone usage. SmartDriver provides users with a calculated Driving Score with each trip they make and, depending on the aggregate score at the end of their policy periods, they can earn rewards like cash back for responsible driving throughout the year. The product utilizes sophisticated software that doesn't require a physical tracking device or a black box, and has a gamification element that makes it entertaining for the user to interact with.
Beema SmartDriver was uniquely designed with the customer in mind, and doesn't record or capture any personal information beyond the data needed to calculate the Driving Score. And once calculated, any and all information used, particularly regarding location, is immediately discarded. With user data protection and privacy at its core, SmartDriver abides by strict GDPR regulations and maintains the highest levels of cyber-security.
Through the launch of SmartDriver, Beema has once again strengthened its commitment to "making insurance loveable" by sharing profitability with its customers. As of now, Beema already has over 300 SmartDriver users.
Since its launch of the region's first usage-based car insurance in 2019, Beema Pay-per-kilometer, the company has awarded users over AED 600,000 in cashback. It has also witnessed record market-share growth since then, allowing it to further the success of its innovative car insurance and launch new product verticals.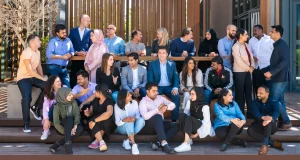 In 2021, Beema launched customizable Travel and Home insurance products, each digitally focused and designed with UAE customers in mind. Building on its values of "Simpler, Easier, and Fairer", Beema's products can all be purchased and managed online, in a matter of minutes. In just 2 years since launching, Beema earned the title of "Best InsurTech Solution" by Entrepreneur Middle East.
Focusing on high-growth markets, and with a record success in the UAE, Beema's innovative insurance solutions are expected to expand both regionally and internationally in 2022, with new products in the works as well.