After a period of stagnation, activity picked up in 2021, boosting GDP to 4.7%; however, the Sub-Saharan growth is expected to slacken sharply by more than 1% to reach 3.6% in 2022.
The International Monetary Fund (IMF) has released the Sub-Saharan report on the Regional-Economic Outlook, signaling tougher times ahead for the region. The region is "living on the edge" as decade-high inflation levels pose a dire challenge to the economic environment appertaining to dawdling recovery from the pandemic, surge in food and energy prices, and increased public debt. Three major global developments are the key influencers of the region's outlook- a slowdown of advanced economies and emerging markets, tightened global financial situation, and volatile commodity prices.
After a period of stagnation, activity picked up in 2021, boosting GDP to 4.7%; however, the Sub-Saharan growth is expected to slacken sharply by more than 1% to reach 3.6% this year. "Late last year, sub-Saharan Africa appeared to be on a strong recovery path from a long pandemic. Unfortunately, this progress has been abruptly interrupted by turmoil in global markets, placing further pressures on policymakers in the region," stated Abebe Aemro Selassie, Director of the International Monetary Fund (IMF)'s African Department.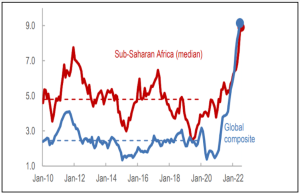 The growth rate diminishing to 3.6% is akin to the muted investment and an overall fall in trade activities. The set turbulence and uncertainty in the commodity prices have led to the scaling back of trade for the region; however, regional heterogeneity persists as oil export is expected to increase by 3.3% while non-resource-intensive countries shall face an increase of 3.1%. An increase in the cost of living due to inflation is causing poverty, food insecurity, and malnutrition in this developing region.
Tighter financial conditions in advanced economies could cause the region to lose development assistance, while the US dollar strengthening may result in imported inflation. Intensification of the Russian war and prolonged restrictions on exports put additional pressure on energy and food prices in the African region, exacerbating food affordability issues and increasing societal tensions.
Geopolitical strains between Russia and the West increase global risk aversion and borrowing costs for the region. Recently, the region has been struck by a series of shocks that have taken a toll on its policy space. Public debt has reached about 60% of GDP, leaving the region with debt levels last seen in the early 2000s. There has been a shift in debt composition towards higher-cost private sources, which increases debt service costs and rollover risks. In fact, 19 of the region's 35 low-income countries are now in debt distress or at high risk of distress.
Mr. Selassie has thus provided four priority policies for policymakers of Sub-Saharan Africa:
Addressing Food Insecurity: 123 million people, or 12% of sub-Saharan Africa's population, are expected to face acute food insecurity by the end of 2022. The utmost priority is to protect the most vulnerable ones by anointing scarce resources to them. Expensive and poorly targeted measures should be phased out.
Managing the shift in Monetary Policies: In response to rising inflation and tightening interest rates, policymakers should cautiously raise policy rates while monitoring inflation expectations and foreign exchange reserves.
Consolidating Public Finances amid Tighter Financing Conditions: Policymakers need to continue consolidating their public finances, especially in light of rising interest rates. Credible medium-term fiscal frameworks, including effective debt management, can help lower borrowing costs. A G20 Common Framework may need to be improved if there is a need for debt restructuring or reprofiling in countries with acute debt vulnerabilities.
Sustainable and Greener growth: Policymakers must set the stage for sustainable, high-quality growth. Resilient, green infrastructure must be invested in, and renewable-energy resources must be maximized in the region.
"With help, sub-Saharan Africa will be poised to fulfill the promise of the African century, contributing to a more prosperous, greener future for the region and the world," Selassie vouches.