UAE and Egypt sign a Memorandum of Understanding to develop a 10GW onshore wind project in Egypt.
President His Highness Sheikh Mohamed bin Zayed Al Nahyan and President Abdel Fattah El Sisi of Egypt witnessed the signing of an agreement between UAE's Masdar and Egypt's Infinity to develop a 10-gigawatt onshore wind project in Egypt. Masdar is one of the fastest-growing renewable resource companies in Abu Dhabi securing the emirate's leadership in the evolving global energy market.
The memorandum of Understanding was signed by the UAE Minister of Industry and Advanced Technology, UAE Special Envoy for Climate, and Chairman of Masdar, Dr. Sultan Ahmed Al Jaber, and Dr. Mohamed Shaker El-Markabi, Egypt's Minister of Renewable Energy and Electricity during the United Nations Climate Change Conference (COP27) happening in Egypt.
The signing of the agreement was presided over by high officials and dignitaries including H.H. Sheikh Hamdan bin Mohamed bin Zayed Al Nahyan; Sheikh Mohammed bin Hamad bin Tahnoun Al Nahyan, Advisor for Special Affairs at the Ministry of Presidential Court, H.H. Sheikh Mansour bin Zayed Al Nahyan, Minister of the Presidential Court and Deputy Prime Minister; H.H. Sheikh Abdullah bin Zayed Al Nahyan, Minister of Foreign Affairs and International Cooperation and other senior officials.
The 10GW wind farm will produce around 47,790 GWh of clean energy yearly and counterbalance the carbon emissions to around 23.8 million tonnes which is equivalent to 9 percent of Egypt's current carbon dioxide emissions. The project will contribute to Egypt's aim of guaranteeing renewable energy to make up around 42% of its energy mix by 2035.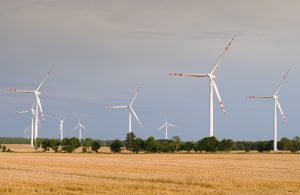 Dr. Sultan Ahmed Al Jaber stated that the wind farm project will stand as evidence of the aims and ambitions of the UAE and Egypt along with the country's position at the forefront of positive climate action in the region as well as globally, which could also be seen in the Partnership for Accelerating Clean Energy (PACE) between US and UAE. He further added that UAE and Masdar will go on to encourage Egypt's net-zero goals. The wind farm will also provide additional savings for Egypt's annual natural gas costs and help in creating hundreds of job opportunities.
His Highness Sheikh Mohamed bin Zayed Al Nahyan in a statement commented that the two nations initiative to build 10GW onshore wind project falls in line with the commitment  to advance renewable energy solutions to support sustainable development.
Consistent with our commitment to advance renewable energy solutions that support sustainable development, I joined my brother President Abdel Fattah El Sisi at COP27 to witness the signing of an MOU between our two nations to develop a 10-gigawatt onshore wind project in Egypt. pic.twitter.com/qBeX7AnF0o

— محمد بن زايد (@MohamedBinZayed) November 8, 2022
The chief executive officer of Masdar, Mohamed Jameel Al Ramahi states that the agreement paves for the company's largest-ever project. "Masdar is proud to bolster our contribution to Egypt's renewable energy goals while strengthening our partnerships with Infinity Power and Hassan Allam Utilities and building on our relationship with the Egyptian Government," says Mohamed Jameel Al Ramahi.
The Chief Executive Officer of Infinity Power, Nayer Fouad stated that the firm focuses on creating opportunities where the private, as well as the government bodies, can move towards a more renewable and sustainable source of energy. "We are confident that this project will greatly benefit the country and enable Egypt to take great steps forward on its journey in becoming a more sustainable and green nation" states Nayer Fouad.
Masdar and Hassan Allam Utilities earlier in April signed two Memorandum of Understanding with organizations backed by the Egyptian Government for the development of 4GW green hydrogen production plants on the Mediterranean coast and the Suez Canal Economic Zone. For the first phase of the project, the firms plan on developing a green hydrogen manufacturing facility that will be operational by 2026 for the production of 100,000 tonnes of e-methanol yearly for the purpose of bunkering the Suez Canal. Masdar is invested in a portfolio of renewable energy assets with a value of more than US$20 billion and a capacity of 15 GW or more.