There are multifaceted reasons why countries and organisations resort to sportswashing and spend billions of dollars
The term
sportswashing
has its root associated with the term 'whitewashing.' Whitewashing is the act of concealing some dark aspects of an organisation, a country, or an individual.
 When a government or an organisation does the same thing- but using sports as the paint tool – that's what is known as sportswashing.
The Aim of Sportswashing
There are multifaceted reasons why countries and organisations resort to sportswashing and spend billions of dollars.
First, there is the aspect of brand building – the country's attempt to show itself as a soft power on the world stage. When a country successfully hosts a glitzy sporting event with lights and fireworks and cheerleaders and, of course, the players – people across the world subconsciously start seeing the country as capable of handling bigger events.
Its importance in the eyes of world leaders gets enhanced. People support their favorite teams with their hearts and soul. A sporting event, in this respect, is as important as a religious event.
This overflow of emotion during a sporting event can be used by countries to further their PR agenda and improve their image. Secondly, it's not just about image building – sportswashing is used to repair the country's image as well.
A country that is lambasted worldwide for the human rights abuse that takes place there, for the war that it is indulged in, or for the corruption within the government would love to repair its image (or conceal its darker side) by using a sporting event as a tool.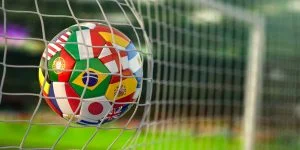 The 2022 Football World Cup as a Sportswashing Tool
The 2022 Football World Cup in Qatar is an interesting case study.
On the one hand,
Qatar
used this sporting event to establish its clout in the world – now that world is moving away from petroleum.
On the other hand, Qatar got itself entangled in more controversies surrounding human rights abuse and corruption in its attempt to bag the World Cup hosting rights.
Let's start from the beginning. Why did Qatar feel the need to host the Football World Cup? There are two reasons.
Firstly, most Middle Eastern countries remain in the shadow of the big brother, Saudi Arabia. Even in the OPEC group, Saudi Arabia has more influence than other countries.
Qatar had to prove itself as a nation which could get out of the Saudi shadow. It wanted to project itself as a strong nation in the Middle East capable of handling its own affairs.
Secondly, way before it bagged the World Cup in 2010, Qatar used to be mentioned in the global media for all the wrong reasons. For example, the Western media has time and again lambasted Qatar for its Kafala system, where a migrant worker's passport is snatched, and he is tied to just one employer
(Source)
. The employer, basically, can do anything with that worker under the Kafala system – with little legal recourse available for the worker.
(Source)
It is regarded as modern-day slavery. Almost 70% of the population in Qatar is made up of migrant workers. One can imagine how widespread this systematic abuse of the workers is.
Although women in Qatar have more rights than their Saudi counterparts have, a lot remains left to be desired. The fact that women can't go out without a male guardian shows the lack of freedom that female Qataris have to endure.
(Source)
So to whitewash its reputation as a developing nation where human rights abuse is normalised, Qatar decided to host this glitzy affair. According to Forbes, Qatar spent more than $220 billion to prepare itself for the World Cup.
But…
Streisand Effect
The Streisand effect is the phenomenon when somebody tries to hide some unpleasant thing, and that act of hiding publicises that unpleasant thing more. Qatar's act of whitewashing its dark aspect prompted international media to talk more about its dark track record.
In fact, the country resorted to more corruption and more human rights abuses to gain the World Cup hosting rights and to build the infrastructure. All these came to light because Qatar was very desperate to use sportswashing.
On the one hand, Phaedra AlMajid accused Qatar of bribing FIFA confederation members. On the other hand, reports of terrible human rights conditions of the workers building the infrastructure also started pouring in. And this year, Qatar's imposition of various restrictions on audiences and reporters became the headline.
Reports are coming in that Denmark is thinking of quitting the World Cup after their players were forced not to wear the One Love armband. German players, on the other hand, staged a symbolic protest against the restrictions imposed on Qatar by covering their mouths during the team photo session.
Bottomline 
As you can see, Sportswashing never works. It can provide a temporary PR boost, but this same thing keeps the 'why' of resorting to such a PR boost alive within the subconscious of all the people involved. Case in point – people still talk about the corruption allegation that rocked Brazil during the 2014 FIFA World Cup